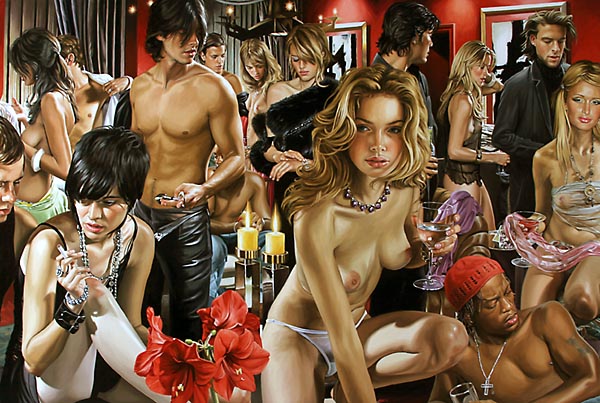 My most favorite event (more than oscars), Costume Institute Gala was held a few days ago at the Metropolitan Museum of Art, New York. I am so waiting this event more than Oscar, Grammy or else because this event must be attended by some of beautiful stars in some of their beautiful dresses. The theme of this year's event is "Model as muse". There must be some of the greatest supermodels and of course some A-List celeb...
Kate Beckinsale made me WOW and WOW with this Marchesa Gown... I can't say so much thing about it because I am too in love with this dress. The designers of Marchesa did look stunning too in their self-designed dress, especially Georgina Chapman
Kate just won my
Best Dressed Award
The up and coming supermodel, Oluchi Onweagba, gave us her best effort to wear this very beautiful ball gown. I was kinda hoping that there would be many celebrity wore this type of gown, because I love some dramatic scene. But there's not many girl have a gut to take this risks. I love how Miss Oluchi wore this black and white Oscar de la Renta Ball Gown....
She deserve
Best Ball Gown Award
Isn't she beautiful? The hair, the dress, the make up, and the shoes are all beautiful. The dress is from Marc Jacobs Fall 2009 collection. As we know, the collection itself has some vintage feeling and Anne brought that feeling too... I love it.
for me she won that
Best Cocktail Dress Award
and
Best Hairstyling Award
May I just say WOW!!! I have been in love with this dress when it was presented on the runway. And I wonder how will the Hollywood celebrity wear it because the runway version had sheers on the bust area. And then, Kerry Washington did wowed me so much with this Louis Vuitton Fall 2009 lacy dress. It was so playful, beautiful and fancy on her. I get so confused when some blog named her on their worst dress list because Kerry looked really beautiful that night.
For me, she won the
Cutest Dress Award
And as you can see, Marc Jacobs' muse is Kate Moss and she definitely wearing one of Marc's creation... I don't know why but this look is my most favorite, even though Kate matched all of her outfits, I'm still loving. The turban, the trib two shoes and the one shouldered dress is awesome.
Marc Jacobs who is the honoree of tonight (and host with Kate Moss and JT) looked dapper and great with that bow... loves it... :)
They are deserve the
Best Couple Awards
:)
I think Emma Roberts really rocks this Atelier Versace Spring 2009 bubble shaped mini dress in silk organza that embroidered entirely in laquered red sequins.. This dress is one of my favorite from the collection and I never thought that this young girl would rock this dress. But I kinda hate her hair, too plain and boring.
but she deserves
Best Teen but almost Boring Award
goes to her ;)
I love when Leighton Meester took some risks... I don't know about you, but I'm loving her Louis Vuitton Fall 2009 ensembles. The outfit itself is so great, full of imagination and eye-catching. I'm not crazy about her hairstyle nor her hair color though, but her make up is awesome. Yeah its not as flawless as Blair Waldorf, but it matched perfectly with her outfits...
She deserves
Best Louis Vuitton Awards
and
Best Risky Outfits Awards


Mary-Kate Olsen is getting so much better these days. And at this event she wore this very ravishing and beautiful couture by Christian Lacroix. She made a bit modification on that dress and I think the dress is good enough for her. She looked like a good wifey from that I saw in the history book. I love it..
She deserves the
Best Vintage Award
I was so SURPRISED!!!! and I can't keep my mouth shut... I always talked about this case to all of my friend because I am so in love again with Blake Lively... This blue one shoulder Versace Fall 2009 dress is so sexxy. It has a high thigh split and Lively didn't scare to show us how great her leg is. Her hair and her shoes is complimenting her so well. It's good to see Serena's back.
For me, She won the
Sexiest Award...
I don't know her. Her name is Dr. Lisa Airan. And she wowed me with this
Balmain Fall 2009
Dress... She won the
Best Blingy Dress Award
I love the trend on this gown. Rise and Fall Gown is so happening these days and one of the best design is by Olivier Theyskens of Nina Ricci. Lou Doillon wore this red dress well and didn't dissapoint me because I am so in love with this dress. Unlike the alike Versace Atelier dress that Jessica Biel wore, Lou is rocking this dress.
She won
Best Red Dress Award.
Rose Bryne did know how to impress me. I loved the runway version of this Marc Jacobs Springs 2009 dress and now I am loving the dress on this color. It's so beautiful... Her make up, her hair and her smile... It's all perfect for me.
She just won the
Most Beautiful Appearances Award
.
I expected too much for Coco Rocha but she didnt let me down. She wore this metallic snake-skin-looked-alike dress with a very bright smile. I love her because she know how to smile well...

I just didnt get why Isaac Mizrahi, the designer of her dress, wore those hairband.... Yuck!!!

But kudos to Coco as she won the
Best Golden Girl
Award
She's one of the biggest supermodel in the history and she proved it that she still looking fabulous by wearing this pop-colored dress by Emanuel Ungaro. This Fuchsia dress completely complimenting her skin tone.
Among all the other supermodel, she won
Best Supermodel Award
Speaking of model, Anja Rubik really made me go GAGA over her. She really know how to pull off this dress and she definitely wore this dress on runway too. She wore the silver studded Balmain Dress with the studded heels also from Balmain.
She's so fierce and deserve to win the Best Model Award

More to goo.... :D